We don't like some parts of our face ourselves such as smaller eyes, bigger nose, chubby or thinner cheeks and broad forehead etc. But we can cover these negative appearance by perfect makeup and show us more beautiful. This technique is called contouring makeup. For instance small eyes can be showed bigger, lengthy nose can be showed small in size. Here is the perfect contouring makeup tips for your worrying face cuts.
Oval face cut is called as perfect face cut in the world. But it is not possible for everyone to have such a face cut. So make up, hair styles will help us to make our face cut in that shape and beautiful.
Make Your Big Foreheads to Smaller
Somebody will have big foreheads. For this we can use foundation and compact which is darker for two shades than your skin tone from where the hair growth starts. Apply them thickly for 2 inches and do normal make up. This will show your forehead reduced in size.
Slim Your Big Nose with Contouring Makeup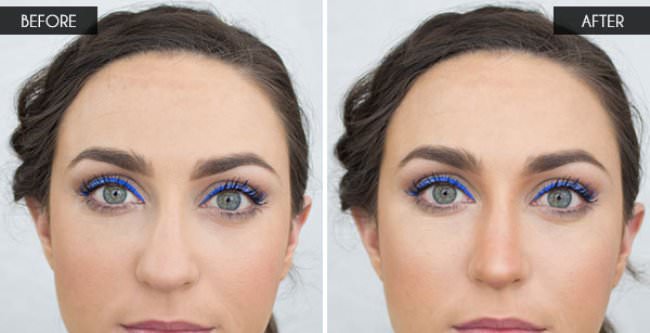 To slim the big nose to normal in size apply foundation and compacts which is darker than your skin tone on both the sides of your nose. Then apply light colour shade at the centre of the nose to show it smaller.
Those who have small nose should apply dark shade foundation at the centre and light coloured on both the sides (T-Zone)
Reduce Wide-Set Eyes (Distance Between Eyes)
For some people have the wide-set eyes (distance between the eyes). We should use eye liner from the beginning of the eyes to show it bigger and give a look at wide-set eyes reduced.
To Make Small Eyes Look Bigger
If it is small eyes white colour kajal can be applied before applying black kajal to show it bigger and beautiful. It will be also good if we use the eye liner thickly. If you have big eyes avoid using  kajal all over the eyes instead, use them only in the lower portion.
How To Make Thin or Uneven Lips to Even or Bigger
If the upper lip is big, use dark shaded lip pencil to draw outline of the lower lip and apply same colour lipstick inside. It will show them even and bigger. If both the lips are smaller lip liner itself can be used as lipstick.
Contour Your Chubby or Thinner Cheeks
If the cheeks are small, we can blush on the cheeks itself. But those who have chubby cheeks can use the blush only in the lower part of the cheeks. If the jaws are narrow, apply dark shade in the jaw line.
We Can Change The Look By Hairstyles Too.
The small changes in the hair styles will change your total look like make up. Those who have bubbly cheeks can have long curls, layer cut and fringe up to cheek so that the chubbiness is reduced. Those who have small face should tie their hair on the backside so that the face will look chubby.