Pedicure at regular intervals is necessary to remove cracks, dried skin, and dead cells. If you do these step by step procedures to a pedicure at home you can get rid of cracked heels.
There is no patience for the women to take care of hands and legs with separate time at the busy work schedule now a day. Even though many salons have come up now, many people don't have the mind to spend and patience. dry/cracked heels are a very important issue to spoil the beauty of legs. The following several causes can lead to cracked heels.
Causes for Cracked Heels
Skin Dryness
Over Weight
Aging
Working Wet Areas
Diseases
Long Periods Standing
Humidity Levels
Those who don't wear footwear at home, those who walk in dirty areas, those who do garden works are some other causes for the cracked foot. Whatever it can be cured permanently.
Pedicure at Home Step by Step
Things Need
Hot Water Tub
Nail Clipper
Cuticle Cream
Shampoo
Foot Scrub
Nail File
Nail Polish
Moisturizer
1. Remove Existing Nail Polish and Shape Nails
It is good to remove the old nail polish and clean your nails before starting the pedicure. Then cut your nails with nail cutter and shape them with nail file as you want. We usually cut the toenails very close to the skin. But if the nails are grown in legs, it will look beautiful. It will be also beautiful if we shape the nails into a square. Apply the cuticle cream and clean your nail with cotton.
2. Soak your Feet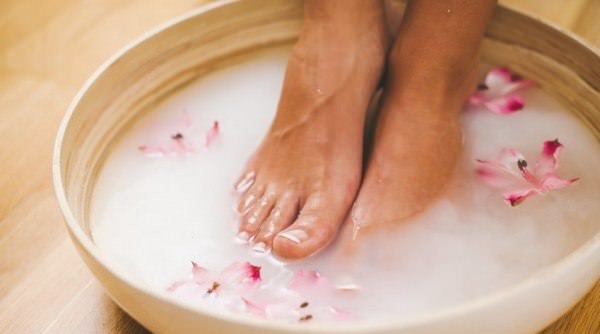 Add some shampoo in a warm water tub. Soak your feet for 10-15 min. It will be easy to scrub if the legs are soaked in water for 20min, so as to remove the hard skins easily. Now we do not have the chance of soaking the legs for more time. That is why the legs are soaked in hot water for some time and scrubbed in the name of a pedicure. After having a bath, the legs will be wet and easy to scrub. Those who have, sinus and cold problems can use hot water in a bucket with liquid soap and the legs can be soaked in that.
3. Scrub your Feet
The foot scrubbers are available in the shops with steel handles. We can remove the dead cells and cracks with this. Scrub the cracks and dirt's with the scrubber. This is very good for cracks. Others can use pumice stones. Pedi egg can also be used for scrubbing. But this will not be suitable for wet legs.
For some people, the skin will be rough and hard like knots. They can use the corn blade and peel the hard skin. Then we have to remove the dirt and impurities with the pedicure kit or the attachment with the nail cutter. Then wash the legs with soap and brush which is specially made for legs.
4. Moisturize your Feet
After scrubbing wipe out the legs and apply any heavy moisturizing cream on the nails, legs, toes and the gaps and massage it well. After it gets dried, apply nail polish. This is pedicure.
Those who have more cracks in the legs, when applying ointment at the night time before going to bed should wear socks to yield better results. Otherwise, all the ointment will be wasted in the bed and it will take more time to cure. It is enough to do pedicure and manicure twice a month. It is necessary to take care of the hands and legs to maintain beauty. Next, we can do homemade manicure for beautifying your hands.