We have seen the moisturizer and it benefits, choosing right moisturizer for skin type and homemade moisturizer for different skin types in the previous articles elaborately. In this article we can see a to z details of concealer.
What are concealers? What is its work? How many types of concealers are there? How to choose? How to use? All are explained in this chapter.
What are Concealers?
In these days makeup plays a vital role in each one's life. For that make up, the important cosmetic is concealer. It is difficult to apply makeup without this. Concealer helps to hide the defects of the skin and thus helps to improve the beauty. It helps to hide the dark circles under the eyes, black circles, pimples; the scars left over by the pimples, warts and helps to highlight the skin and to avoid showing the unevenness of the skin complexion.
How to Apply Concealer Properly?
Use a mild cleanser before using the concealer. Then apply the concealer. It will be even when we apply concealer after the application of moisturizer.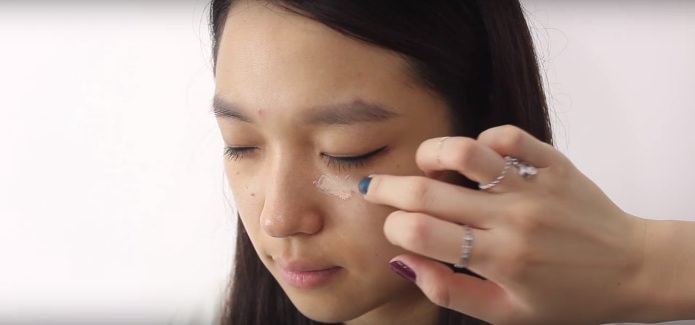 Take the concealer in one of your fingers and apply on the skin. The concealer taken in your finger should be of the same colour of the applied one. Test it in all the places. To hide the dark circles apply the concealer from the place where nose and eyes join to out wards.
Rub it lightly with brush or finger tips. Brush is suitable to apply concealer. To hide the birth marks we have to apply 2 coats. We can use this to highlight the eye brows.
Some people will have intruded eyes. For them apply concealer from inside the nose. If it is not applied properly the eyes will look like sleepy. Apply carefully while applying beneath the eyes. Apply on pimples, dark spots and scars one by one. You can apply the concealer in a very thin layer if you have to apply more. Or else it will be uneven when time goes on.
If you have large nose, apply concealer both sides. If round face apply it both cheeks. Then blend it with moisture sponge of it has with the rest of the complexion. See the mirror after applying concealer. After that, to remove oily content on the face use compact powder or translucent powder with soft brush. If it is not suitable wet the edge of the makeup sponge and wipe it outwardly. While choosing the concealer choose light shade of the concealer when comparing to the skin. Then apply foundation.
What are the types of concealer? How to choose right shades of concealer for different skin complexion? All these details are goes to next.