Normally if there are any special occasions or parties women will take extra care in enhancing their beauty by makeovers. Beyond that, they will go to beauty parlors for eyebrow threading, waxing, facials, etc.
Whatever the makeup, somebody's face will look dull, and they may have skin problems like pimples, dark spots, wrinkles, etc. The chemicals used in the parlors sometimes create problems for skin. So we can make face masks by simple home-based things. So that we do not get any side effects, and the skin becomes glowing and refreshed. The following homemade face masks for instant glow and keeps ourselves beauty.
There are so many reasons for wrinkles in the skin. So much wind, heat, and chemicals if exposed to skin, dryness, and smoking can cause wrinkles on the skin. If we are exposed to the sun for a long duration, the wrinkles and the pale yellow skin will appear and the skin will lose its softness. Dark spots will appear. Our carelessness is also a reason for this. For avoiding these kinds of problems, maintenance is essential. Face masks are enough in treating the wrinkles at home.
8 Homemade Face Masks For Instant Glow At Home
#1 Banana Face Mask
Banana contains more nutrients that are essential for the skin. The banana face mask opens the skin pores and cleanses the skin, moisturizes and pimples, wrinkles will be removed. Well ripened banana is mashed and 1-2 drops olive oil, rose water, and cocoa butter. Then clean the face with milk and shown in vapor for a few minutes. Wipe the face with a towel. Apply the banana mixture on the face and leave it for 15-20 minutes. Then wash it with cool water. So the face becomes glowing and refreshing.
#2 Papaya Face Mask
Papaya is valuable in making the skin shining. While going out to any party or function, the papaya face mask will be effective. Small piece of papaya is a grind and mixed with milk and lemon juice and it can be applied on face and massage for 1 minute and then allowed it for getting dry. Then it can be washed with cold water. By applying this face mask the dead cells are removed and make the skin moisturized. This is also effective in treating wrinkles.
#3 Clay Face Mask
Generally, we use 'Multani Mitti' (Fullers Earth) in a clay face mask or gram dhal flour. If we use Multani Mitti, rose water and sandal powder should be used. If we use the flour small quantity of curd and lemon should be mixed and applied. Both these masks will provide a good benefit to the skin.
#4 Honey Face Mask
One tablespoon honey and ½ teaspoon carrot juice is mixed together. Cotton is dipped in soda bicarbonate water and the honey mixture and applied on the face and left for 20 minutes. Then it should be washed with cold water. This will easily remove the wrinkles.
#5 Glycerin and Honey Face Mask
One tablespoon honey and one tablespoon glycerin is mixed together and applied before going to bed, and washed in the morning with pure water.
#6 Apple Face Mask
Apple contains more vitamins and antioxidants. So apple can be smashed and applied on the face for getting glow and avoiding wrinkles.
#7 Onion Face Mask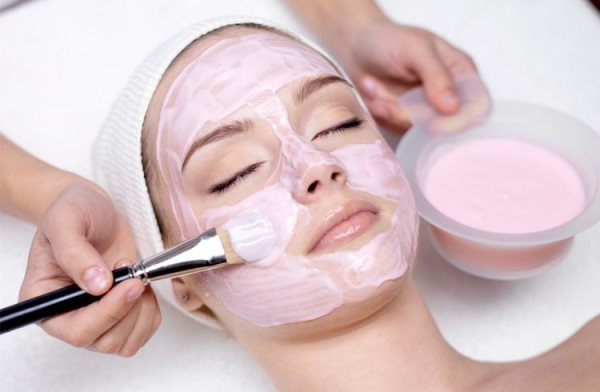 One teaspoon of onion juice and honey is mixed and applied on the face. It is massaged for some time and allowed for drying. The microbes, wrinkles will be removed by this mask. Our young and married women usually use the cucumber for treating dark circles. The cucumber will refresh the eyes and look like it is bleached. On the day of the wedding ceremony, cucumber can be placed on eyes for 20 minutes for removing dark circles. Potato can be used by replacing cucumber.
#8 Olive Oil Face Mask
Is your face looks dry before any makeup?  The face can be massaged with olive oil and then washed with cold water or any face wash. Wipe it. Now the skin will be glowing with good oil content.
Let us apply the above face masks and keep our skin glow, young and wrinkle less.