A girl may have beautiful features but if her skin is dull she doesn't appear beautiful. This dullness can be temporarily removed and skin brightened by using a makeup base or foundation. Other makeup items like eyeliner, blusher, etc. can be used only after using the foundation. But if the right foundation is not chosen, the whole effect of makeup is spoiled. There are a variety of foundations available in the market. It is important to know their types and uses for a proper beauty regime.
We have seen about the choosing right foundation, things to apply foundation and how to apply foundation properly? in the previous article elaborately. Various Foundation Types! Which of you is matching? Here, find the matching foundation for according to your skin tone.
Foundation Types for Matching Your Skin Tone
Normal Skin Foundation
Sheer Foundation: Sheer foundation is the right choice for those who prefer nude makeup. This foundation is easy to apply. The sheer foundation is suitable for normal to dry skin. If you have oily skin it is better to avoid sheer makeup.
Whipped Foundation: The whipped foundation is suitable for all skin types. It gives an instantly fresh look for dry and aged skin.
Gel Foundation: Gel foundation hides the red spots and small defects of the skin and provides natural complexion to the skin. The oily skin can be shown as normal skin if we use this. It can be used to hide the pimples too.
Powder Foundation: This is also called as compact powder. Powder foundation makes oily skin look fresh. It is suitable for daily use.
Oily Skin Foundation
Oil-Based Foundation: This foundation makes aged skin look young. It hides wrinkles in the face. The oil-based foundation makes dry skin looks fresh and soft. It is suitable for those who have oily skin.
Oil-Free Foundation: It conceals the oiliness of the skin and provides softness. This foundation will stand for only some time for oily skin. It will last longer as far as the oiliness is present. If these people use other types of foundation pimples will appear.
Matte Foundation: Unlike other foundations matte foundation is oil-free. It is completely water-based. It is suitable for oily skin. Apply a base coat of moisturizer or foundation primer before applying the matte foundation for a neat look.
Long Wearing Foundation: Some people will say that the foundation is notwithstanding even if they use any type of foundation. They can use a long-wearing foundation. In this, there are types like 4 hours, 5 hours, 8 hours and 12 hours even 24 hours. You can buy this type of foundation for how many hours they want the foundation to withstand. This will attach to your skin immediately.
So we have to apply it quickly to the skin. Or else it is very difficult to make the corrections. Likewise, this foundation cannot be removed by the cleanser, it can be removed only by the makeup remover. So while buying this type of foundation you have to buy the makeup remover also along with it. This is suitable for oily skin to more oily skin.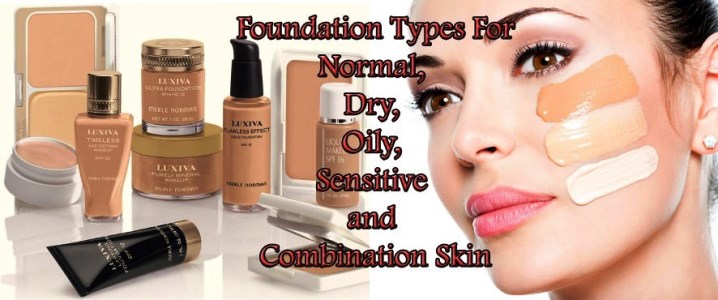 Dry Skin Foundation
Moisturizing Foundation: Moisturizing foundation is suitable for normal to dry skin. This foundation will be thick in nature. So blending is easy. The things which decrease the defects of the skin are available in this foundation. Also, this foundation gives you a soft look so that your skin will be healthy and glowy.
Liquid Foundation: There are many types of liquid foundation available in cosmetic stores like oil-based, oil-free, waterproof and 24 hours. A single coating of this can be applied as a light makeup. Two coatings of this can be applied as heavy makeup for parties and functions.
Oil makeup will be helpful to show the dry skin with a normal glow. The required foundation for that is
For fair skin- Gold liquid foundation
For Dusk skin- Peach and orange
For dark skin- Gold and brown
Shimmer Foundation: Shimmer foundation provides shimmering brightness to the skin. It has to be applied in particular parts of the face like cheeks, chin, the tip of the nose, forehead near the eyebrows. Rather than applying for on the whole of the face shimmer foundation is applied only on the portions that require highlighting. Use a shimmer foundation lighter than your skin tone.
Combination Skin Foundation 
Stick Foundation:  Stick foundation is not to be applied on the face. It is applied to hide scars, dark spots, pigmentations and dark circles. After applying the stick foundation, a crème or liquid foundation can be applied on the face. This foundation can be applied directly for normal and oily skin tones especially combination skin. For dry skin, moisturizer must be applied before applying stick foundation.
Powder Foundation: Powder foundation will be suitable for normal skin, slightly dry skin and slightly oily skin. It will provide a glow to the skin. This foundation should be used in day time.
Brightening Foundation: Brightening serum foundation veils the freckles like defects of the skin and provides a soft look. It controls the sweat and brings the glow from inside the skin.
Skin Clarifying Foundation: Skin clarifying foundation is available in the cake form. It can be used as a dry or wet form. If used dry, it shows natural beauty. It enhances beauty if used wet.
Smudge-Proof Foundation: Smudge-proof foundation is available now. It can be called a bridal time foundation. It will help to retain the makeup even in the smoke zone.
Sensitive Skin Foundation
Mineral Foundation: Mineral foundation is made using naturally occurring minerals. This is best suitable for sensitive and allergy-prone skin. This can be applied using a big brush.
Tinted Moisturizer: Apart from moisturizing the skin tinted moisturizer also gives a bright look. If it contains S.P.F it can be used as a sunscreen as well.
Foundation Primer: This is similar to a primer applied on the walls before painting them. It temporarily hides the blemishes due to pimples and scars. Applying primer before applying the foundation gives a smooth finish to the makeup and gives a better look than applying moisturizer. 
Open Pores Foundation: Open pores foundation conceals the dimples of the skin and shows like silk.
Waterproof Foundation: Waterproof foundation can be used during rainy seasons and in summer to avoid the smudging of makeup due to water and sweat. But it has to be removed using a makeup remover and not with soap or other face washes. Continuous usage of a waterproof foundation can lead to the enlargement of skin pores and the appearance of blackheads. The waterproof foundation is not to be used daily.
SPF Foundation: Those who have sun tanned skin can use the SPF foundations.
Anti Aging Foundation: Age defense foundation hides the wrinkles, dark circles under the eye and dullness. It hides the aged look.
Acne Foundation: Acne foundation is helpful in hiding the pimples and show the skin soft and even look.
So have you selected the right foundation for your skin type?
Next Article… A to Z information about the face powder.